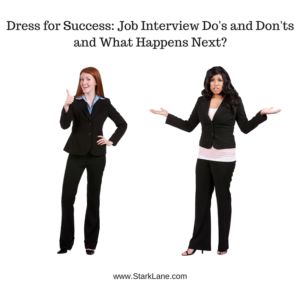 "Dressing appropriately for a job interview lets the hiring manager know you are taking the opportunity seriously and it can also communicate that you have respect for the interviewer."
You got the interview, congratulations! You have a date, time, and location, you have done your research on your interviewer(s) and now it is time to decide what you will be wearing that day when a first impression can be a deal breaker. Most people may think "It's just clothing and it's what's on the inside or on my resume that matters," but on a job interview I can assure you Professional Appearance is part of your hiring manager's evaluation list. Dressing appropriately for a job interview lets the hiring manager know you are taking the opportunity seriously and it can also communicate that you have respect for the interviewer.
To ensure your skills and experience are the focal points of the interview, I have put together Do's and Don'ts when choosing your attire for your job interview. Follow the same guidelines to prepare for your video interview.
Clothing

DO: Suit Up. Invest in your "power outfit." A well-tailored suit will never go out of style and you will look like a million bucks. Opt for black, grey or navy blue colors. Slacks or pencil skirt? I once read an article which recommended wearing slacks if the interviewer is female and a skirt if the interviewer is a male. If unsure, opt for slacks. Wear a collared blouse on white or pastels. Look for cotton, silk or polyester. If you are going to wear patterns let them be small and subtle. Tuck in your blouse. Do a final 360 checkup for loose threads.
DON'T: "Casual Friday" your interview or wear a dark brown or bright color suit. Wear a blouse the same color as your suit. Make sure that your pant hems are not too long or too short. Avoid large patterns, animal prints, and horizontal lines. And don't forget to dry clean or properly iron your garments in advance.
DO: Dress conservatively and professionally comfortable. Try on your outfit before your interview day. Make sure you can sit, stand, walk and move freely.
DON'T: Dress as if we are still in the early 1900's or wear skirts that are too short (above the knee) or tight, low cut blouses, see-through anything.
DO: Shine with confidence.
DON'T: Shine by wearing glitter or sparkly clothing.
Hair and Makeup
DO: Go to the hair salon. Get a trim and retouch your roots a week in advance.
DON'T: Do a complete makeover. Days before your interview may not be the best time to experiment with your hair. Also, don't let loose hairs hang from the back of your blazer or allow your hair to cover your face. You don't want to be touching your hair in the middle of an interview.
DO: Wear makeup to highlight your natural beauty. If any, cover visible tattoos.
DON'T: Don't overdo your makeup. We want people to focus on your skills, not on those bright red lips or blue eyeshadow.
Tips:
On a clean face, apply a moisturizer with SPF.
Use a liquid foundation to even out your skin tone and cover blemishes. Pay close attention to your base making sure that it is not too light, not too dark, but just right. You don't want to look ghostly the day of your interview. To find out if your base is too light take a picture with flash from the waist up and if your face looks as if it doesn't belong to your body, get a new base. I didn't learn this until earlier this year, but having two base colors throughout the year, one for Winter/Spring and another for Summer/Fall is a great idea since your skin tone changes due to sun exposure.
Don't forget to blend your make up.
Use concealer for under eyes and dark circles.
Fight shiny spots with powder foundation: forehead, nose, and chin.
Use neutral eyeshadows and matte lipstick.
Tastefully apply blush.
Fill in your eyebrows with an eyebrow pencil or powder which matches the natural color of your brow (caution: this can take some practice in order to get a natural look). Use an eyebrow brush to comb, blend and get rid of excess.
Apply a light layer of no-clump mascara.
Accessories
DO: Always wear closed-toe shoes for an interview. Make sure they are polished, clean and comfortable.
DON'T: Wear brand new shoes, heels higher than 3" or worn and dull looking shoes. New shoes may take some time to break in, others feel comfortable in the store but not anymore 20 minutes later. Save your pretty high heels and wedges for the weekend.
DO: Keep jewelry to a minimum. Unless you have a brief-case style handbag, leave it in the car. All you need is an executive style portfolio or leather legal size pad holder with printed copies of your resume and a pen.
DON'T: Wear dangling earrings or body piercings. Use perfume. The hiring manager should remember you and not your perfume. Overlook details: you should look flawless from head to toe. Clean and trimmed nails are very important. Wear a clear coat or neutral nail polish.
What Happens Next?
After landing the job of your dreams, continue dressing for success. There may be times your stress levels are off the chart and time is money, but looking polished and professional have a bigger impact on your inner self. When you look the part, you act the part. You won't regret spending those extra few minutes on yourself.
For your everyday office wear get inspired by these 5 office appropriate outfits to copy by Inside Out Style.  Imogen Lamport shows you how to look professional but yet approachable by adding pops of color and personality.
Finally, if you are not sure where to start, I encourage you to visit some of my favorite stores for work attire: The Limited, Banana Republic, Express, Ann Taylor, New York & Company, Chicos and Black House White Market (most carry petite sizes too!). If you have the time, physically go to the store and try on the outfits instead of buying online. If you are like me, you fluctuate between two sizes. Trying out the garments helps you ensure you are getting the right fit and the material is of good quality. If buying online is your thing, pay close attention to measurements and customer reviews.
My go to work shoes are these Coach shoes, I have them in 3 different colors. They are comfortable and have an adequate heel height (­­­2- ¾). They go for $140 at Macy's, but if you are lucky you will find your first pair at one of those resale stores such as Clothes Mentor. I am a size 7 and they had this shoe, new, for $45!
Bonnie Marcus article To heel or not to heel: the question for ambitious women quoted Pamela Rychman, author of Stiletto Networks.
"…When I worked in consulting, management consulting and finance, there was one way to dress, and there was one model for success. And that was really the male way. And you found women dressing in the sort of female equivalent of the male suits. It was the blue and gray pinstripe suits, or black with the big shoulder pads. It was the 80s power suit. And typically, women would cut their hair. They were trying to do anything to mask their femininity because, again, they were trying to blend in with men, and not accentuate any part of their sort of womanhood…but what I've found is, that the way that the world is evolving is that there are more women in positions of power and they're certainly not dressing or behaving in unprofessional ways. But, they're feeling freer to express their true self. What I've found at that initial conference was women wearing chic dresses, and on-trend shoes. Maybe growing their hair a bit longer – and still being able to be successful. What I was seeing on the outside, is actually representing what's happening on the inside: women feeling more comfortable bringing their whole selves to the table – even in the boardroom. And actually, men acknowledging that, women's inherent traits – what they're bringing – is valuable for business. You know, that the give-and-take, the male-and-female – work quite well together – and have complementary styles and skill sets."
In conclusion, you certainly want to stick to a classic-modern look when heading to your job interview, but it doesn't mean you have to dress in a black suit and a white collared blouse day after day. Your work wardrobe can and should also be fun and stylish.
By: Rudbekia Bach
---
Stark Lane, Inc. is one of the most influential Executive Search Firms within the American Healthcare market. With a search focus spanning from Private Equity to the top US News and World Report Health Systems, and a reach that touches all 50 states and American joint ventures abroad, whether your organization is searching for industry-leading talent or you are considering a career change, Stark Lane can help.
Learn more by visiting our website www.starklane.com or check out our Career opportunities. Questions? Call (469)208-8776.