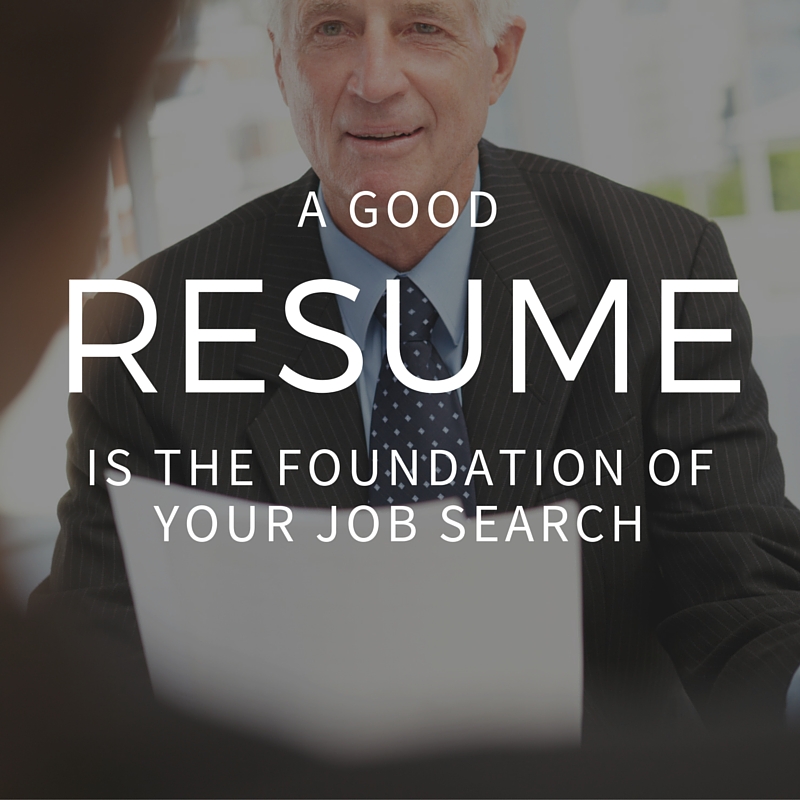 Whether you are a seasoned veteran in your industry or a rookie trying to break into today's competitive marketplace, your initial need in a job search is a good resume.
A well put together resume is the cornerstone of everyone's job search in today's marketplace. Your resume serves many purposes; it highlights your history, your attributes, your track record, the progression of your career, your qualifications and competencies, it demonstrates your attention to detail and the pride you put into your work, and most importantly, your resume's primary focus is to get you in front of potential employers.
There are many schools of thought in regard to what a resume should look like, how it should flow, how long it should be, and the content that goes into it. Regardless, there are a few basic guidelines to follow when building your resume and I will outline those in this article, but before we begin building your resume, there are a few rules to keep in mind.
Stark Lane's Resume Rule #1: A resume is a reflection of self. DO NOT send out a resume that you are not comfortable with or proud of. Your resume should flow as it makes sense to YOU, thus making it easy for an interviewer to follow along as you describe your history or discuss your achievements in an interview scenario.
Stark Lane's Resume Rule #2: Do not be modest on paper. When writing a resume, modesty will get you nowhere. Be proud of your accomplishments and highlight the biggest and best achievements of your career.
Stark Lane's Resume Rule #3: Do not put everything you have done throughout your life on your resume, unless your career has been short thus far. Your resume should be one to three pages, depending on your experience.
Stark Lane's Resume Rule #4: Again, unless you are early in your career, it is unlikely that anyone will care where you went to high school or what part time jobs you worked while you were going to school. Begin your resume with what you see as the first step in your professional career, elaborate on your key achievements, and leave something for conversation in an interview.
Stark Lane's Resume Rule #5: DO NOT put your social security number on your resume. (Many people actually do this).
Stark Lane's Resume Rule #6: Ensure that your contact information is clearly visible on your resume and that you provide the reader with the best way to get in touch with you. For example, do not list your home telephone as a means of contact if you do not use it. Provide the reader with your cell phone and email.
Stark Lane's Resume Rule #7: Ensure that all punctuation, font, formatting, etc. are consistent throughout the document and that all spelling is correct. Inconsistencies and misspelled words will be perceived as a lack of attention to detail, lack of pride, laziness, or stupidity on your part.
Now that the rules have been established, consider how your resume will flow. There are a few basic components that make a resume what it is. These are the title, your professional summary, professional experience, and education. Depending on your goal, your experience level, and your profession, the order of these items may change, but the overall content remains generally consistent.
The title consists of your name, address, and contact information.  This is located at the top of the resume and should be bold and easy to read. *Note* Using a script type font for your name is not ideal, but it is acceptable, assuming it is 100% legible. If a font is too small or difficult to read, you may be excluded from consideration if the hiring authority does not have time to "decode" your resume. Below is an example of what a resume title should look like.

After the title should be your Executive Summary. An Executive Summary is a paragraph that outlines your strongest attributes and/or goals. Example below:

Some people prefer to use an Objective Statement in lieu of an Executive Summary. An Executive Summary is a superior depiction of who you are as an individual and what you can bring to the employer for most people, but many highly specialized personnel and clinical personnel prefer this route. If you choose the route of an Objective Statement; this portion of the resume would look like the example below: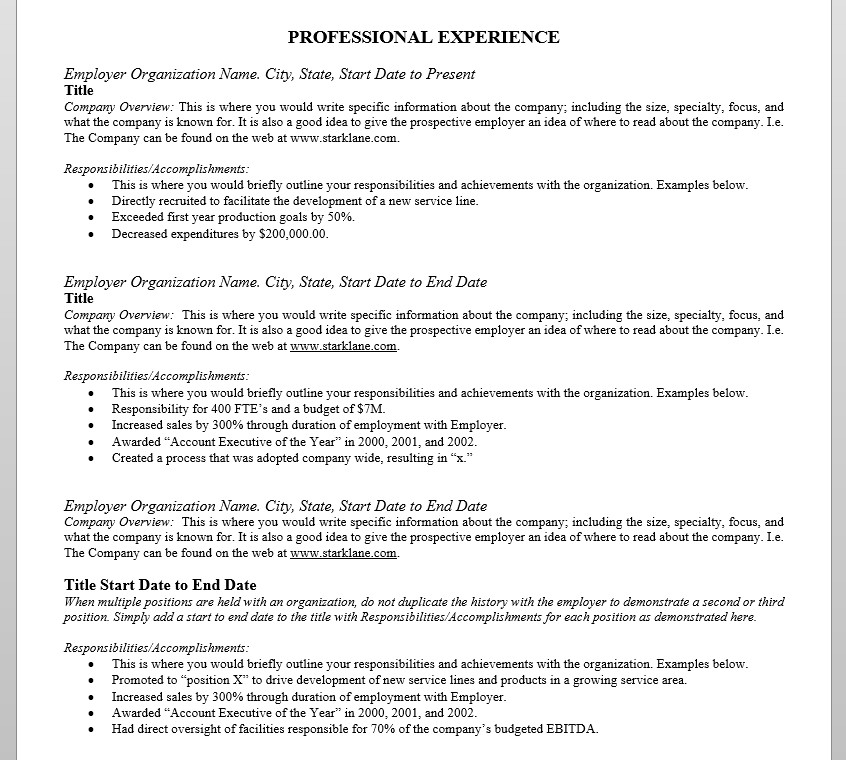 With your Executive Summary or Objective Statement in place, you need to consider what would be more valuable to a potential employer; your education or professional experience.  If a candidate is prepared with a PhD and multiple certifications in the desired field, but lacks on overall experience, it is safe to say that this candidate should list education before professional experience on their resume. If a candidate has minimal education, but strong experience and a strong track record in the field, this candidate should list their professional experience ahead of their education. If you are undecided, list your professional experience ahead of your education.
In today's market, employers want to know what a candidate is doing or can potentially do for them; and as we all know, the best way to predict the future is to take a brief look into the past. For this reason, your Professional Experience should be an accurate, detailed depiction of your career history, your current and previous employers, your achievements, and your career progression over time. Prospective employers are appreciative of attention to detail in this piece of the resume. Ensure that dates are correct and accurate data is provided in regard to the employers, your responsibilities, and your achievements. *Note* Do not be afraid to quantify your track record by providing specific numbers as they relate to the impact you had on the employer through performance. Below is an example of how this portion of the resume will look: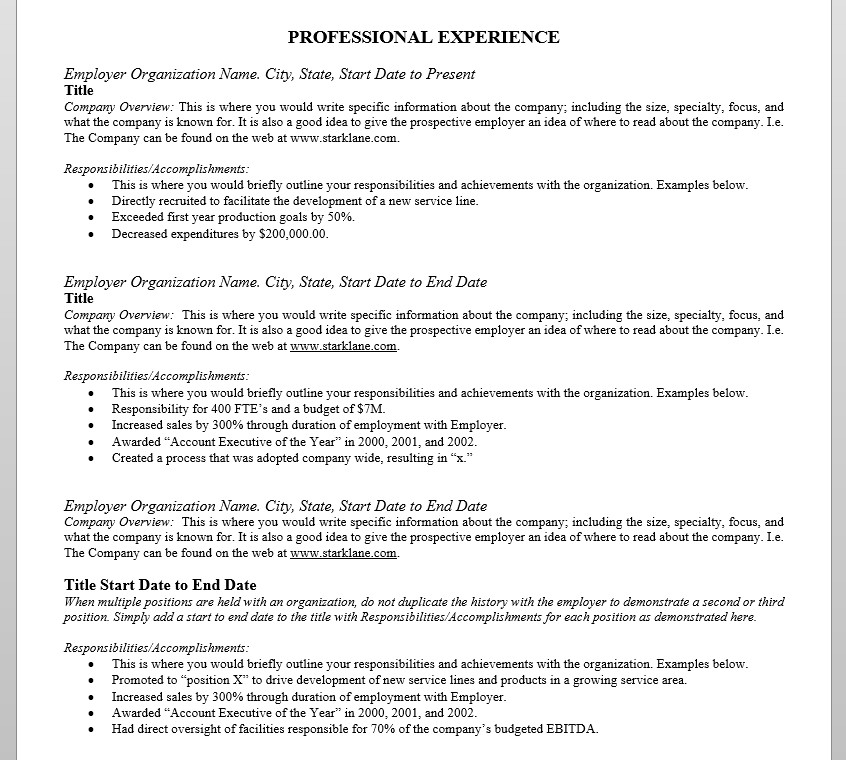 As shown in the second entry above, when a candidate has held multiple positions with their current or a previous employer, it is important to list the full tenure with the organization, then each position individually. If a candidate lists each position with an employer as a new employer entry, at first glance it appears as though the candidate has had additional employers and could be perceived as a "job hopper" when that is not the case at all.
The Education entry is a snapshot of your formal education, certifications, licensures, and any other training that will contribute positively to your candidacy with potential employers. As stated in Stark Lane's Resume Rule #4, it is a good idea to stick with training and education beyond high school, unless there is nothing there. Below is an example of what the Education entry will look like:

It is perfectly acceptable to add nothing to the resume after the Education entry. However, employers will appreciate the gesture that you are willing to furnish references upon request. Make a note of this on your resume. You can do so similarly to the example below. *Note* For MANY reasons, it is a poor idea to list references and the contact information of your references on your resume, especially on a resume that will be heavily circulated.

It may sound like a simplistic idea, but a good resume can be the most valuable tool in your job search arsenal. This example of a resume may seem simple or plain to a handful of individuals, but it is a clear, clean depiction of a candidate and the candidate's attributes. A resume in this format can be heavily circulated to all types of companies for various types of positions and will certainly help in obtaining an interview. Once the interview is obtained, your resume can be easily dressed up for distribution at the interview by adding additional information such as a tailored cover letter for the position you are interviewing for. Additionally, it is relatively inexpensive to have your resume printed on custom paper and enclosed in resume folders at your local print shop or office supply store. This will contribute significantly to your presentation as well.
In today's job market it is important to take advantage of every opportunity to shine above your competition, and with a good resume you will be miles ahead before the interview process begins.
Our sample resume can be found here.
---
Stark Lane, Inc. is one of the most influential Executive Search Firms within the American Healthcare market. With a search focus spanning from Private Equity to the top US News and World Report Health Systems, and a reach that touches all 50 states and American joint ventures abroad, whether your organization is searching for industry leading talent or you are considering a career change, Stark Lane can help.
Learn more by visiting our website www.starklane.com or check out our Career opportunities. Questions? Call (469)208-8776.