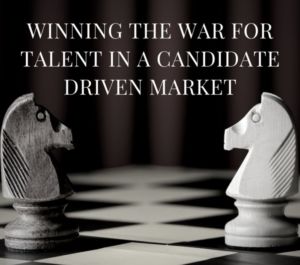 "The future belongs to those companies who are able to adapt to ever-changing business landscapes and those who are able to innovate when necessary."
It's an exciting time! Your company is growing, your superstars are being promoted, and you are finally able to authorize new positions to lighten the load of the team members who carried you through the hard times. On the flipside of the excitement, all these wonderful events have created empty seats. You have exhausted your succession plans and you simply do not have the human capital bandwidth to cover the work. You have run ads, engaged recruiting firms, and you have spent every waking hour scanning job boards and social media for new employees. It seems growth has never been so difficult, especially considering the volume of rejected offers and hires lost to counteroffers.
The recruiting challenges presented in today's market are unlike any we have previously seen, but do not despair. It's not just you; we are all feeling the pain! The popular practice when the pendulum swings to the opposite side is total reinvention. This is not necessary. When competition is fierce, talent is limited, and your targeted talent comes from the passive candidate pool, you will receive the greatest return on minor changes to your recruitment function. I recommend checking and adjusting 4 key areas:
Your financial offer strategy for hiring new employees
Length and complexity of your interview process
The level of involvement of key influencers in your interview process
The level at which you manage candidate's expectations throughout the process
Extending the Offer
During economic downturns, periods of high unemployment, and other climates causing paranoia in the workforce, employers grow accustomed to extending offers of employment with little to no regard to the successful candidate's current or previous compensation package. Maintaining internal equity is a piece of cake, and the successful candidate is less likely to aggressively negotiate or counter, considering their motives for career change. This is an optimal environment for employers, where we quickly grow complacent. Our current recruitment market warrants a state of hypervigilance. Compensation must be addressed early and often. The expectations of candidates change frequently, especially when they are not pressured to make a move.
In years past, talent was plentiful. Many companies, including ours, were able to hire new employees without offering competitive increases in compensation. The "opportunity" was the primary selling point. Unfortunately, we are in a market where most candidates will require a 5% to 15% increase in compensation to make a move, regardless how great the opportunity. This is merely the reality of hiring from the passive candidate pool when employers are competing for talent. Additionally, the idea of "starting" with a low offer and opening the floor for negotiation is an antiquated technique. You will drastically improve your offer to hire ratio if you start with a competitive offer in this market. You will undoubtedly see fewer rejected offers and your new hires will have a better onboarding experience. You are better to extend your best offer first, with a 48-hour expiration, than to low-ball and negotiate.
On the tangent of compensation is relocation. Expectations in this category should be managed tightly as well. As technology advances and companies across the globe allow and promote telecommuting, managing expectations for office hours and whether or not employees are required to relocate is critical. If your star candidate is hoping to work from home a few days per week and this is not part of your work policy, you will want to know this on the front end, before your hiring managers fall in love, you cut all of your backup candidates, and a mismanaged expectation sends you back to the start of the search. In the past, this was not a consideration. Our company is an Executive Search Firm, providing organizations with the leaders who make quality healthcare possible. One may think this would not be applicable in our markets; "of course hospital CEO's and people at the VP-level would have to "go" to work." Today, expectations for relocation and office hours are a core screening criteria for most positions, including those we are engaged to hire.
Check the Length and Complexity of Your Interview Process
Many organizations have spent years developing an interview process to appropriately engage key stakeholders within the organization and ensure the selected candidate is the absolute best all-around fit for a position. Often, this is a multi-step process that includes some form of testing or personality assessment; it may take a week, or it may take several months to complete. Each step requires multiple calendars to align, and by the way, your candidate has to be available on these days as well. Today, most candidates have experienced some form of testing or personality assessment. Some are quick and easy; some are invasive, administratively burdensome, and time consuming. If your process is designed to provide your organization with the best candidate possible, with little consideration for the candidate experience, it is time to reconsider your strategy. We recommend a process as short as possible, without sacrificing quality. If your vetting tools are invasive, administratively burdensome, and time consuming, I recommend checking out other options, or combining alternative assessments and third party reference tools to achieve the same result.
The candidate experience is a critical consideration in the current market. If your process is too lengthy, you will lose the interest of star candidates who are not pressured to find a new job and many candidates will view the lengthy process as a lack of interest in their candidacy, even if this is your known standard practice. I recommend placing significant emphasis on providing a positive candidate experience. This is one of the fastest ways to become an employer of choice. Remember, even if you do not hire someone, their brother, their friend, one of their parents, or one of their kids may be your next superstar. You want them to report a positive experience to their contacts and make the recommendation to interview.
Involve Key Influencers
Most companies have a few key leaders who are the true drivers of culture. They are charismatic, engaging, and candidates fall in love with the company story when it is told by these individuals. Don't overlook an opportunity to introduce a promising candidate to one of these leaders, if at all possible; they are your secret weapon in the war for talent! Sometimes a quick handshake and introduction as you walk from one meeting to the next can be the most impactful part of the entire interview process.
Manage Expectations
While it may seem to be common sense, it is amazing how few organizations take the time to outline the interview process with candidates. As you can imagine, it can be devastating for a candidate to receive a call, thinking they will receive an offer of employment, but, instead, learn there is another interview or two.  It is always beneficial to outline your intervie
w process (to viable candidates) during the first interview.
Beyond the interview process itself, it is a good idea to add a few screening questions to the first interview, and continually check these items throughout the process. Some of these include:
Offer Response Timeline: In the first interview, ask your candidates "if you are offered a position with our company, is there any reason you could not accept or decline the position within 48 hours?" It is amazing how this simple question will reduce the number of candidates who go radio silent while they shop your offer with other organizations for a week. Additionally, if there is no expectation in place and an offer is extended after a lengthy process, with an expiration, candidates may become frustrated.
Start Date: In the first screening call, it is always a good idea to check start availability and share your timeline expectations.
Restrictive Covenants: Whoever coined the phrase "non-competes don't hold water" was out of their mind. This is a common misconception on the street. So much so, many candidates may not think to voluntarily disclose they have restrictive covenants in their employment agreements. As businesses become more complex and are forced to do more with fewer resources, restrictive covenants have become a commonplace method for protecting intellectual property, trade secrets, processes, customers, and services in general. Often, prospective employees do not understand the risk of breaching these covenants until it is too late. It is best to screen for restrictive covenants.
Interviewers and Interview Discussion: Executive Search Firms and other professional recruiting companies do a wonderful job preparing candidates for interviews. Often, this merely includes background on the interviewers, company history and vision for the future, information on the immediate demands of the role, and guidance on interview do's and don'ts. If two identical candidates interview, and only one is prepared with this information, the prepared candidate will present with greater confidence, the conversation will stay focused on critical goals, demands of the role, and conversation critical to compatibility. The prepared candidate and interviewers of the prepared candidate will have a better experience all around. Some organizations take three to five minutes of each interview to prepare finalists or strong candidates for the next interview. Benefits considered, this practice is worthy of a trial run for most companies. If properly executed, interview prep of your serious candidates can greatly enhance your interview and onboarding process.
If your organization has a lengthy interview process, candidates will appreciate learning why. If you do not already have an answer for this question, share something similar to:
"Our organization has a fairly lengthy interview process. I thought you would appreciate knowing this on the front end. Our employees feel it is important to protect our culture by ensuring prospective employees have a realistic preview before committing to the organization, and, naturally, we want to get to know one another as well as possible. We hope you feel the same way when you are a member of the team."
When openly shared on the front end of the interview process, a statement such as this is multi-purpose. It demonstrates your consideration for the candidate experience, it illuminates the fondness employees have for your organization, and it creates the sense of exclusivity.
The future belongs to those companies who are able to adapt to ever-changing business landscapes and those who are able to innovate when necessary. Many people think of innovation as "a big idea." This is simply not the case. Small improvements on a daily basis result in tidal waves of innovation over time. The ideas presented above are not groundbreaking in nature; they are small improvements made by leading organizations to adapt to a candidate-driven market.
---
Stark Lane, Inc. is one of the most influential Executive Search Firms within the American Healthcare market. With a search focus spanning from Private Equity to the top US News and World Report Health Systems, and a reach that touches all 50 states and American joint ventures abroad, whether your organization is searching for industry leading talent or you are considering a career change, Stark Lane can help.
Learn more by visiting our website www.starklane.com or check out our Career opportunities. Questions? Call (469)208-8776.